Return to 3rd Quarter 2020 articles.

He was a precocious boy who learned Latin when 4, Greek when 8, French when 11, and Hebrew when 13. Consider this boy at 15 who complained about Sunday morning hymns at his church. By that Sunday evening, he had written his first poem to honor the Lord. It was the beginning of 750 hymns in his lifetime. He was Isaac Watts (1674 – 1748).
In 1715, Watts compiled Divine and Moral Songs for the Use of Children. One notable entry was "I Sing the Mighty Power of God," which is still in our hymn books. One stanza honors God as Creator of mountains, seas, skies, sun, moon, and stars. Another verse describes the goodness of the Lord that fills the earth with food and forms creatures he calls good. The song ends with the affirmation: "There's not a place where we can flee, But God is present there." The 24/7 presence and care of God is a blessing without equal. This blessing comforts children, helps us through trials and temptations, and draws all to him.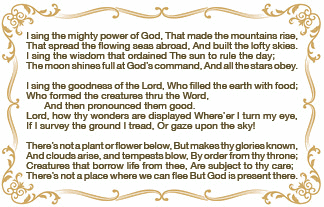 I Sing the Mighty Power of God
1 I sing the mighty power of God, / That made the mountains rise; / That spread the flowing seas abroad, / And built the
....lofty skies. / I sing the wisdom that ordained / The sun to rule the day; / The moon shines full at His command, /
....And all the seas obey.
2 I sing the goodness of the Lord, / That filled the earth with food; / He formed the creatures with His Word, / And then
....pronounced them good. / Lord, how Your wonders are displayed / Where'er I turn my eye; / If I survey the ground I
....tread, / Or gaze upon the sky!
3 There's not a plant or flower below, / But makes Your glories known; / And clouds arise, and tempests blow, / By order
....from Your throne. / Creatures, as num'rous as they be, / Are subject to Your care; / There's not a place where we can
....flee / But God is present there.
Song 941 from Praise for the Lord songbook, published by Praise Press, Nashville, TN, 1997
Picture credits:
Both frames are from © Agungpahing. Image from BigStock.com.