Return to 3rd Quarter 2021 articles.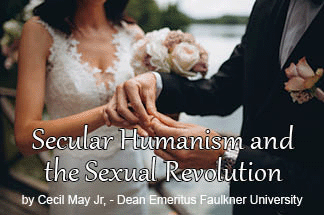 Biblical religionists have lost a major battle to those who oppose any mention of Jesus as Lord, any reference to the Bible, any letting the Bible define conduct as sin, or to the practice of prayer anywhere except in religious services inside church buildings. A Christianity confined to church buildings is like salt that never gets out of the saltbox.
The opinion-makers in the USA — including the mainstream media — has sold the idea that opposing homosexual relations, which the Bible clearly labels sin, is a civil rights issue, equivalent to racial discrimination. The redefinition of marriage from God's "one man for one woman for life" into two women or two men for each other came in the same package. So did no-fault divorce, unmarried couples living together, and "open marriages," where other sexual partners are both expected and accepted.
Here is what the Bible says about marriage:
"Let marriage be held in honor among all, and let the marriage bed be undefiled" (Hebrews 13:4).
"He who finds a wife finds a good thing and obtains favor from the L

ORD

" (Proverbs 18:22).
Here is what the Bible says about sexual relations outside of marriage:
"… but fornicators and adulterers God will judge." (Hebrews 13:4).
"Or do you not know that the unrighteous will not inherit the kingdom of God? Do not be deceived: neither the sexually immoral, nor idolaters, nor adulterers, nor men who practice homoseuality … will inherit the kingdom of God" (1 Corinthians 6:9-10).
Marriage is widely discounted as "just a piece of paper." But it is much more than that. Aside from being a significant legal document, it signifies commitment. More than that, the lack of marriage loudly proclaims the absence of commitment. No commitment of either husband or wife to the other, "for better or worse" or "for as long as we both shall live." No commitment of a father or mother to whatever children may be born to that non-committed union.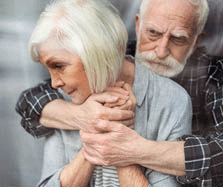 An aged married woman had a severe case of dementia. Her husband finally had to put her in a nursing home. He came to see her every day. He helped feed her, dress her, and fix her hair. She often had to ask, "Who was that man?" Someone asked him, "Why do you come every day since she doesn't even know who you are?" He replied, "I know who she is, and I know who I am. She is my wife."
That is what marriage is, more than "just a piece of paper," committed love!
Picture credits:
© sergiokat. Image from BigStockPhoto.com.
© LightField Studios. Image from BigStockPhoto.com
Scripture links/references are from BibleGateway.com. Unhighlighted scriptures can be looked up at their website.