The Beauty of Death
It is difficult for most of us to associate beauty and death. The world tends to look at death as an end, and words more commonly associated with death are loss, grief, loneliness, empty, and the like. One of the more powerful arguments for the Christian system is its view of death. Paul put it this way:
I have fought a good fight, I have finished my course, I have kept the faith (2 Timothy 4:7).

For I am in a strait betwixt the two, having a desire to depart, and to be with Christ; which is far better: Nevertheless to abide in the flesh is more needful for you (Philippians 1:23-24).
The Christian view makes death a beginning, not an end; it offers hope, joy, peace, freedom, and the release from fear. Not only does the Christian view change the focus, but it also changes how we view life. An atheist is forced to view life as the best he or she will ever have. In spite of the pain, death, loss, disappointment, frustration, anger, etc.--this is the best it gets. The Christian, on the other hand, can view life as the worst they will ever have to tolerate. In spite of all the good things and beauty we experience in life--this is as bad as it gets! What a contrast! If there were no other reason to believe in God than this one, it would be a compelling reason.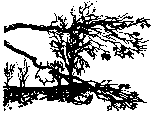 The beauty of the fall colors tells us a cycle of life is over, but in the leaf that lies on the ground is the promise of a rebirth of life so that all the imperfections of the damaged leaf will be forgotten as new perfect leaves appear in the spring. There is beauty in all things, even death for those who will allow God to be a guiding force in their existence.
                            --John N. Clayton
---
Back to Contents Does God Exist?, Sep/Oct97.