Return to 2nd Quarter 2018 articles.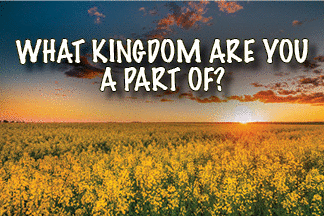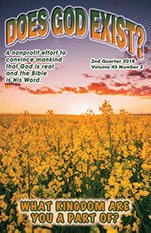 It is difficult to listen to people talk about a religious topic without hearing the phrase "kingdom of God" brought into the discussion. Skeptics are likely to cringe at any mention of the kingdom because it tends to suggest that they must give up control and be subservient to something or someone. Religious people frequently tend to think of the kingdom as a paradise or even as a synonym for heaven. The Bible frequently talks about God as a king, and the kingdom is frequently described as being untimed and all-inclusive. In reality, there are two kingdoms. Understanding the two and the interactions between them can help us comprehend our existence. This understanding can help us answer many of the tough questions in our understanding of our own existence.

The Genesis account is the story of the history of the physical universe. Genesis 1:1 says that God created the heaven. The Hebrew word for heaven is shamayim which means "heaved up things" (Young's Analytical Concordance). Other places in the Old Testament describe the cosmos with the Hebrew word natah, meaning "stretched out" (see Psalm 104:2; Isaiah 40:22; 44:24; 45:12; 51:13; Jeremiah 10:12). All of these uses are things that are done to a physical universe. We see what is referred to as the "big bang" through our scientific instruments. Those instruments record physical quantities, some going all the way back to the beginning of the physical cosmos.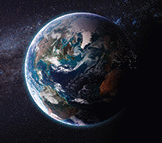 The other word used in Genesis 1:1 is erets which is translated "earth." It is used 648 times in the Old Testament. Many of those uses involve soil or land material, and some involve the planet itself. In all of these uses, the word describes something physical. The first three chapters of Genesis are all physical in nature. The intention for Israel was to be a perfect physical kingdom. In Exodus 19:5-6 God says, "If you obey me fully and keep my covenant, then out of all nations you will be my prized possession, although the whole earth is mine. You will be for me a kingdom of priests and a holy nation."
If you have read the Old Testament, you know that Israel rejected that role. Ultimately God tells them that the physical kingdom will be dissolved. In Isaiah 65:17 God says, "Behold, I will create new heavens and a new earth. The former things will not be remembered nor will they come to mind. But be glad and rejoice forever in what I will create." In 2 Peter 3:10-13 it gives us more detail: "But the day of the Lord will come like a thief. The heavens will disappear with a roar; the elements will be destroyed by fire, and the earth and everything done in it will be laid bare. Since everything will be destroyed in this way, what kind of people ought you to be? You ought to live holy and godly lives as you look forward to the day of God and speed its coming. That day will bring about the destruction of the heavens by fire, and the elements will melt in the heat." Peter goes on to describe the new kingdom which he says include "a new heaven and a new earth, where righteousness dwells."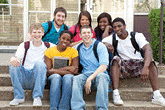 We tend to create God in our image instead of accepting the fact that the Bible says God created us in his image. If we are in the image of God, that cannot mean a physical image. If it were physical, then we would all look the same physically, and we clearly do not. We are identical spiritually because we are all created in God's image. That is why Galatians 3:28 tells us, "There is neither Jew nor Gentile, there is neither slave nor free, nor is there male and female, for you are all one in Christ Jesus." What truly defines us is not our physical makeup. Our true nature is not physical, and our future is not physical either. We will dwell in a place that is with God in the new heaven, and the new earth. That is the kingdom of the future — not a new place on earth. Deuteronomy 26:15 refers to God's holy dwelling place as "heaven." Nehemiah describes the fact that there is a place in which God dwells which he calls "the multitudes of heaven." "You alone are the Lord. You made the heavens, even the highest heaven, and all their starry host, the earth and all that is on it, the seas and all that is in them. You gave life to everything and the multitudes of heaven" (Nehemiah 9:6).

Jesus spent a great deal of time trying to get people to understand that "my kingdom is not of this world" (John 18:36). He expressed the fact that the physical was of no help in trying to understand the new kingdom. "The Spirit gives life; the flesh counts for nothing. The words I have spoken to you — they are full of the Spirit and life" (John 6:63). The separation of the physical kingdom and the spiritual kingdom is the subject of many of Jesus' teachings. Matthew 5:45; 7:21 refer to "God who is in heaven." Mark 13:31-32 tells us "Heaven and earth will pass away, but my words will never pass away. No one knows about that day or hour. Not even the angels in heaven." Matthew 3:1-2; 4:17 teach us that "John the Baptist came, preaching in the wilderness of Judea and saying 'Repent for the kingdom of heaven has come near.' " Some suggest that the future holds a new kingdom and a new earth that is located in Jerusalem and is established by physical war between humans ending with Jesus returning to David's throne. They are teaching a future that is physical, and they contradict much of what Jesus taught.
So what is the Kingdom that God is king of? Where is this kingdom and what is our place in it? In Luke 17:20-21 we read, "Once, on being asked by the Pharisees when the kingdom of God would come, Jesus replied, 'The coming of the kingdom of God is not something that can be observed, nor will people say, "Here it is," or "There it is," because the kingdom of God is in your midst.' " Revelation 1:5-6 tells us, "Jesus Christ … who loves us and has freed us from our sins by his blood, and has made us to be a kingdom and priests to serve his God and Father … ." You cannot read these statements and come to the conclusion that the kingdom Jesus is talking about and established on Earth is a physical kingdom in Jerusalem or anywhere else. The kingdom of Jesus is a spiritual description that does not have physical limitations or constraints.

Many of the parables and analogies used by Christ were designed to show the properties of this spiritual kingdom we are called to be a part of. In Matthew 13:24 Jesus shows that participation in the kingdom can be contaminated, as physical kingdoms are, by power struggles and human weakness. This is a parable of the sower of good seed, and it shows that evil will be removed when the kingdom is finalized. In Matthew 13:33 there is the comparison of how yeast worked through dough and the fact that our participation in the kingdom works through our lives. In Matthew 13:45 is a comparison of how valuable the kingdom is, that all the other things we value fade into insignificance when compared to being a part of the kingdom of God. In Matthew 13:47 we have the parable of the good and bad fish with God sorting out those who are corrupt. In the kingdom

of God, we will not have all of those who bring tragedy into the physical kingdoms of Earth. Hypocrisy and inconsistency will not be a part of the kingdom of Jesus Christ. In Matthew 18:23 we have the parable of forgiveness as the king forgives a huge debt and condemns those who would not forgive the small debts owed in the physical world. That is emphasized more fully in the Lord's prayer in which we can expect forgiveness only to the extent that we forgive others (see Matthew 6:12-15). In Matthew 22:2 we have the king who prepares a wedding for his son, and people find all kinds of excuses as to why they cannot come. The parallel is that people can find all kinds of excuses as to why they will not be a part of the wedding — the kingdom of God. The king goes out and brings in people he does not even know — people not of the Jewish faith. Even then, however, the participants have to be prepared, so a gentile not prepared for the kingdom is rejected. Those of us who are gentiles still must obey the commands to be admitted to the kingdom. These parables make no sense if you attempt to apply them to the physical world. Many who were following Jesus resisted the spiritual understandings and in John 6:66 many left him because they could not handle the spiritual things he taught.
In 1 Corinthians 15, we see the overall picture of the future of the kingdom. It tells us that physical life will end for us as our physical bodies are consumed by the corruption that is a part of the physical world, and then we will receive a new body. Paul tells us in 1 Corinthians 15:44 that our bodies will be "sown a natural body and we will be raised a spiritual body." We see in 1 Corinthians 15:49-50 that just as we have "borne the image of the earthly man, so shall we bear the image of the heavenly man. I declare to you, … that flesh and blood cannot inherit the kingdom of God." Paul tells us in 1 Corinthians 15:22-26 that the kingdom Jesus established will be delivered to the Father and that the final thing to be abolished is death (1 Corinthians 15:26). In 2 Peter 1:10-12 we learn that "you will receive a rich welcome into the eternal kingdom of our Lord and Savior Jesus Christ."
We must not be misled into wrong ideas about the kingdom of God. It is not a physical image of prosperity for those who are in Christ. The prosperity gospel concept is not biblical. Christ will not establish a political kingdom returning, forming an army, and defeating political enemies as many dispensationalists teach. Jesus resisted force (see John 6:15) and stated clearly in John 18:36, "My kingdom is not of this world. If it were, my servants would fight to prevent my arrest by the Jews. But now my kingdom is from another place." God's kingdom is not visible (Luke 17:20-21). The kingdom is not entered by force but by obedience. In John 3:3-8 Jesus told Nicodemus plainly that, "no one can see the kingdom of God unless [he is] born again." Nicodemus could only think physically, and so he replied with wonder, one "cannot enter a second time into [his] mother's womb to be born!" Jesus answered, "no one can enter the kingdom of God unless [he is] born of water and the Spirit." In Romans Paul explains this more fully pointing out that being baptized into Christ means dying to the physical world (Romans 6:3-6) and being raised as servants of righteousness (Romans 6:18).

The real question comes down to what kingdom are you a part of? We are all a part of the physical kingdom right now because we exist in a physical form. Is that all there is to us? When death comes, as it will, does everything end? The physical kingdom offers temporary pleasure, but as we age, it becomes increasingly obvious that our physical existence will be destroyed. God has given us the option of hugging that physical existence and milking it for all we can get out of it, but he has warned us that our nature is far greater than the physical. He calls us to choose to enter the eternal spiritual kingdom which he has made available through Jesus Christ. You enter it by obeying God and allowing him to work through you now, with the promise of an eternal membership in the spiritual kingdom.
Picture credits:
Cover: © Grisha Bruev. Image from BigStockPhoto.com.
© Grisha Bruev. Image from BigStockPhoto.com.
© sakkmesterke. Image from BigStockPhoto.com
© Forplayday. Image from BigStockPhoto.com.
© flippo. Image from BigStockPhoto.com
© AnnekaS. Image from BigStockPhoto.com.
© Chepko Danil Vitalevich. Image from BigStockPhoto.com.
© ch_ch. Image from BigStockPhoto.com
© svarshik. Image from BigStockPhoto.com.
Scripture links/references are from BibleGateway.com.